St. Ive's Oatmeal and Shea Butter Body Moisturizer
I love this product because it is so light weight and it leaves my skin feeling very soft. It's really creamy. When I pour the products in my hand, I can just feel how much it is going to moisturize my skin. I LOVE IT!!! It's also really affordable, you can get it for about $5-7.
Dove Cream Oil Body Wash
This is one of the best body washes out. Some moisturizers dry out your skin, but this one makes it feel so smooth. It makes my skin feel very silky and soft. It does not dry out my skin like some body washes do. This is a must try/must have product.
Eucerin Calming Cream
I love this because my skin beaks out sometimes and when it breaks out the spots get very dry. In order for me to apply my medicine to it, I have to apply a good moisturizer to it first and my doctor prescribed this. I love it because if I am out somewhere and I begin to have a breakout, I can just apply this to it and it can keep it under control and calm until I can apply my medicine. I would recommend this someone who has very dry skin or has occasional break outs like me.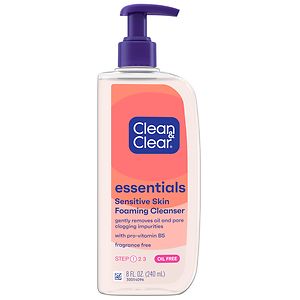 Clean and Clear Essentials Foaming Facial Cleanser
I love this product and for my review on it, see my earlier post on it.
J