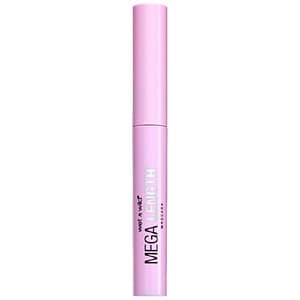 Hey loves!!!
Thanks to one of my lovely friends on campus, I have found out that Wet n' Wild's MegaLength is a dupe for the Benefit They're Real Mascara. Me and her are big fans of the Benefit They're Real Mascara! Ok, I am going to be honest...I was very afraid to try a mascara from Wet 'n Wild because I heard a horrible story about them one time I was reading reviews about their MegaProtien Mascara on MakeupAlley. The person had wrote that it made their naturally curly lashes turn straight and it was a horrid experience for them, so I told myself that I would never purchase any mascaras from them...but that has changed. I have learned that I cannot rely fully on reviews from other people because every person is different, genetically and personally. Some products that most people hate, I love them and some products that most people love, I absolutely hate. Ok, back to the comparisons lol. She had told me that they were very similar, so I decided to take a chance and give it a try. I really like this mascara. It is literally just as good as the Benefit. I mean, for the Wet 'n Wild to only be $2.99 and the Benefit is $23, you just can't beat that. What I like about the Wet 'n Wild is that it doesn't clump and it goes on very easily. It also dries fast because it is not overly wet. If you are a beginner at makeup, I would definitely suggest you buying this one. Also, if you do not want to spend $23 on a mascara I would recommend this. As a matter of fact, I am feeling very generous, so I will be giving away one of the Wet 'n Wild mascaras for someone to try. The rules for this is very simple and they are:
1. Must be a subscriber
2. Must leave a comment below (on the blog, not google plus) telling your favorite mascara
Only 2 Simple rules :) What better way to kick off the month than with a lovely giveaway!
Giveaway Ends: April 11, 2013
As always, I hope that you lovely ladies enjoyed this post and don't forget to give me a +1 and subscribe.
Have a wonderful rest of your day loves!
Britt